THESSALONIKI
HOTELS
RESTAURANT
CAFE
RENT A CAR
CLUB
TRAVEL AGENCY
TAXI TOURS
PHOTOGRAPHY
User reviews

The view of Thessaloniki! Warm (25-29 degrees) but there is a cooling breeze...
Thessaloniki reviews

Are you familiar with Thessaloniki? Tell others your opinion. Write a review.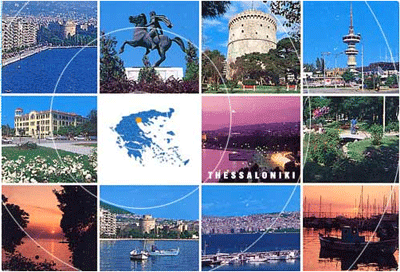 Thessaloniki, the princess of Thermaikos gulf is the capital of Macedonia province in Greece. It is the second largest city after Athens the capital. It has a population of more than 1.000.000 inhabitants and it is one of the oldest cities in Europe.

It was King Kassander of Macedonia that founded the city and named it after his wife, sister of Alexander the Great about 315 BC. During the last 20 centuries Thessaloniki is capital of Macedonia and the biggest port in Northern Greece.

It is magical city-symbol with a modern European face and a sense of a better life. Rich cultural happenigs, museums, archaeological monuments, unique churches, monuments from all the past centuries but also a tremendous nightlife, from the traditional taverns to Thessaloniki film festival. It is common belief among the Greeks that Thessaloniki breathes a different air, closer to the real human needs.

Some 70 Km to the Southeast lies Halkidiki, a peninsula with some of the best beaches in Greece. Thessaloniki with the port and the airport is also the start point for any Halkidiki exploration.

Thessaloniki is connected with Athens and many Greek islands by plane. There is also a summer ferry connection with Skiathos, Kavala, Paros, Naxos, Santorini and Crete and other Greek islands.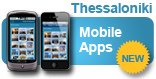 MAP
INFORMATION
VILLAGES
BEACHES
WORTH SEEING
PHOTO GALLERY
VIDEO GALLERY
360 PANORAMAS
E-CARDS
TOPICS
MAILING LIST
NEWS
SEARCH
ABOUT US
LINKS